The Ovid Bee published the obituary of Moses Van Campen on October 31, 1849.
The Ovid Bee
Vol. 12. No. 36. Ovid, Seneca County, N.Y. Oct. 31, 1849.
Death of Moses Van Campen
Died, at Angelica, Oct, 15th, Maj. Moses Van Campen, one of the brave officers of the Revolutionary army, now, alas, fast passing away.
He was born in the year 1757, on the 21st of January, in Hunterdon County, New Jersey, and had consequently attained the patriarchal age of 92 years and 9 months, nearly.
During the bloody struggles of the War of Independence, he took an active part, and few men have been as much exposed to danger in many a desperate encounter with foreign and savage foes, and yet escaped unhurt. His interesting biography, published in 1842 by his grandson, gives account of the almost marvelous escapes which Major Van Campen passed through during the eventful times in which our forefathers fought for all that is now dear to us.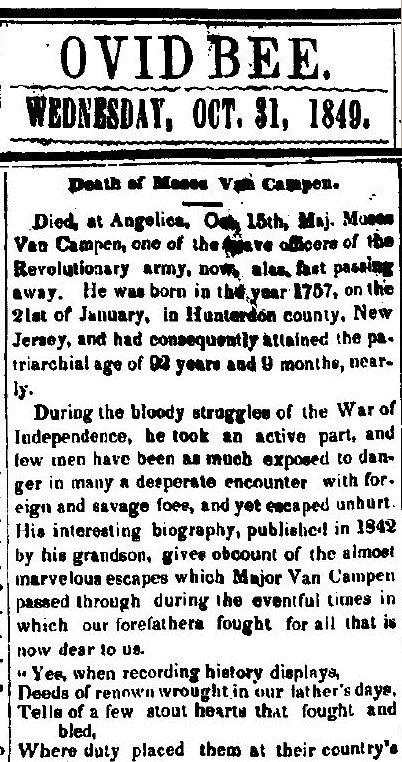 "Yes, when recording history displays.
Deeds of renown wrought in our father's days,
Tells of a few stout hearts that fought and bled,
Where duty placed them at their country's side;
The man who is not moved with what he reads,
Who takes not fire at their heroic deeds-
Unworthy of the blessings of the brave,
Is base in kind and born to be a slave!"
It is now 54 years since this distinguished patriot removed to this place, then a wilderness; but now teeming with beauty and sparkling with the graces of civilization—What changes have taken place during the period that has elapsed between his birth and death! Then we were "little among the nations;" but now we are in the foremost rank of the countries on the globe. The energy of the heroes of the Revolution has indeed laid a solid foundation of greatness for this great commonwealth to build upon—May the sons of America never be unworthy of that precious boon of liberty, for which their fathers' blood was so freely shed.
"These brave men die—it grieves us;
Why should these great men die?
They die, but leave us
A lasting legacy!"
In 1807, Maj. Van Campen was appointed one of the Judges of Allegany county, and he also held with much credit the office of Treasurer for 15 years. In 1834 he removed to the village of Dansville, where his upright character and integrity secured the esteem of every citizen. In the village of Angelica, and also in Dansville, he filled the responsible station of an office bearer of the Presbyterian church; and faithfully did he discharge the duties which devolved upon him, until that hand was palsied and had become feeble, which had held the sword, the pen, and the word of God, too, with manly firmness. He has been a noble pillar in the house of God, and has been long spared to be a keeper of the cause of truth. After spending many years in Dansville, and living an active, honest and upright life in that place, he was seized with a severe paralytic stroke in the month of February, 1845. The strength of his constitution enabled him to bear up under this malady; and in the month of May, 1848, he removed again to this county, to spend his last days in the midst of those he loved.